Regular price
Sale price
Rs. 900.00
Unit price
per
Sale
Sold out
Get rid of double chin under 2 hours from home without expensive skin treatments with this face lifting mask!
Double V lifting Mask transforms your look instantly by giving you a sharp and smooth jawline with high-enriched hydrogel.  Get the best jawline in the world inexpensive & painless lift.
Works as a Jawline Shaper and reduces double chin, wrinkles, ageing and fine lines
: 
Double V face lifting mask is effective and proven to reduce double chin and saggy skin. It tightens your jawline and smiling lines and makes you look smart and younger.
Forget expensive kits, chemical treatments and surgeries. 
Get perfectly shaped jawlines from home without the pain of needles and knives or medicines. 96% of our customers have claimed they have slimmer chin from the first use of this jawline shaper.
Promotes skin healing and reduces redness of the skin. This double chin mask can boost collagen and sculpt the chin overnight without causing any discomfort.
Get back the natural glow of your skin with this double chin mask
It strengthens your jawline and fights ageing. Makes your skin smooth and nourishes it. 
Fits comfortably on any face size
Unlike other cloth or plastic masks, this v jawline mask fits your jawline perfectly and comfortably. It is made of stretchable and soft fabric designed to fit your face perfectly no matter how small or big the face is.
This Jawline Shaper has cuts near the ears so that you can wear it and do any other task you like. The mask will still be on your face.
Reusable
This face lifting mask is reusable. You can use it multiple times till the elasticity stays in the mask. Keep it in the refrigerator when not in use.
Smooth and skin-friendly
The v jawline mask is smooth and lightweight. It can be used both by women and men. It doesn't cause skin irritation or allergies.
The cheapest and best v jawline face lifting available on the market
How to get a jawline overnight? Well, 96% of our customers have seen visible changes in their jawline after using this double chin mask for just two hours.
Covers chin, cheeks, nose folds and cheekbones comfortably
Reduces fat effectively from your nose fold, cheekbones and entire face area. Look younger without expensive treatments from home.
Removes cellulite from the skin and protects your skin from cell damage while repairing your skin.


Achieving the Best Jawline in the World is now easy:
Just take it out from the packet and put the mask along your jawline. Keep at least 2 hours. You can do any other task you like wearing it. You can sleep wearing it too. We recommend using one mask every 15 days or before a party or any special occasion. One use will keep your jawline sharp and slim for 7-10 days.
How to use:
Ingredients:
Hexapeptide-8 - reduces the appearance of expression line wrinkles by using the snare complex. It relaxes facial muscles, meaning they contract less—fewer contractions like squinting lead to fewer wrinkles.
Caffeine - constrains blood vessels, reducing puffiness of the skin. It has an anti-inflammatory effect and helps to soothe the skin and bring down the redness of skin.
Get Noticeable reduction of double chin and facial wrinkles with the best face lifting mask!
View full details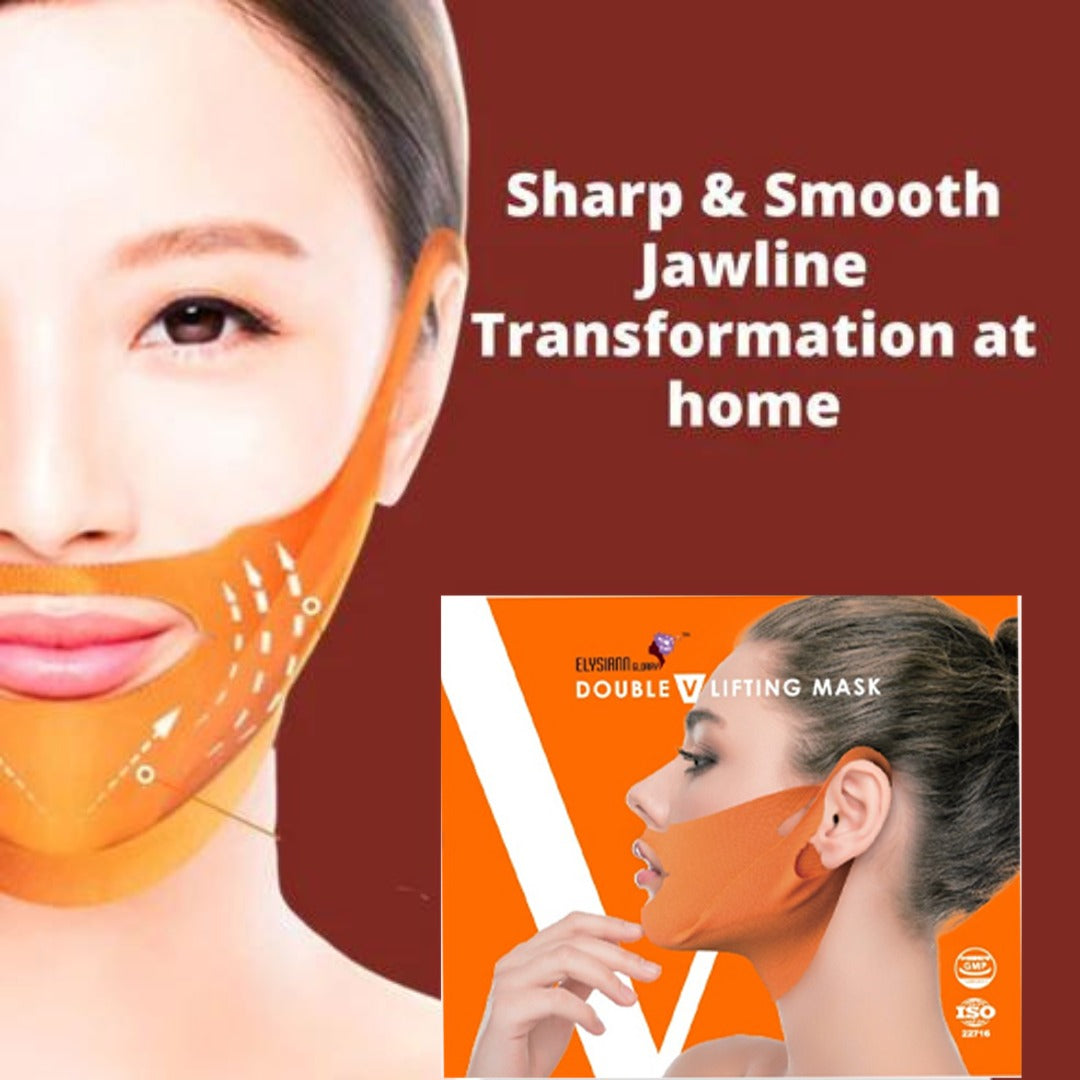 More Details
Delivery in 2-7 Days

Orders are shipped out within 24 hours and delivered in 2-7 days
Organic Products

100% Natural FDA approved products. Paraben and harsh chemical free. Safe for all skin type.
Best Customer Support

✅ Express Shipping in 2-7 Days

✅ Phone, WhatsApp & Email Support

✅ Tracking Number for every order

✅ Safe Payments - COD & Prepaid

✅ Dermatologically Tested Products
Suits All Skintype

Natural Product

Paraben Free

Cruelty Free
Benefits
Visible reduction in double chin

Easy to use. Wear the mask for 2 hours and remove.

Get smooth jaw line from home

no expensive treatment required

Reusable mask

Keep the mask in fridge after using. It can be reused untill the elasticity of the mask is maintained.

Easy to use & Comfortable Fit

Fits any face size comfortably due to its elasticity.
Our customers love us
I am seriously surprised by the result.

I am a regular buyer. Products are amazing.

Very fast delivery and great customer support

Worth every penny. Very nice product.
Amazing
I used these as instructed and the result was good
Worth Spending
my jawline looked visibly more defined immediately
Great Product!
it definitely helped combat my sagging concerns after each use
Love It
my jawline looked visibly more defined